Since coming home from hut hopping life has gone back to normal-ish. I don't have so many things-to-do on my list which is really nice. I'm learning how to limit how much I bite off, because it's exhausting and disheartening trying to chew really fast to get through everything!
So what am I doing with myself these days?
I've been painting. Last week I worked on a large painting of Rocks Ahead Hut, one of the huts I drew in the Kawekas last month. Here is a small detail from the painting when it was in an unfinished state. I had only my sketch from on location and my memory to work with. I did have photos of the hut but they were taken at a different time of day and the shadows and light were completely different so there were useless to me.
I quite enjoyed painting again. It's nice to come back to after doing mostly drawing for a long time.
I have been reading a lot too, these days. I have two large volumes about the Impressionist painters in the ninteenth century. It's full of beautiful paintings and I am enjoying reading all about the artists like Renoir, Monet, Cezanne, Dagas, Manet, etc. I love the Impressionists and there work and it is really interesting to become more familiar with their work and study their paintings and notice how really very like impressions they really are and yet what makes them so appealing and so beautiful that they have stood well the test of time and are still the most loved paintings in the world.
Monet
I think it fascinating how all these painters who began the Impressionist movement all knew each other and influenced and encouraged one another in this new way of looking at the world and putting it on canvass. And yet they each had a different take on the same thing all contributing a certain aspect to the movement.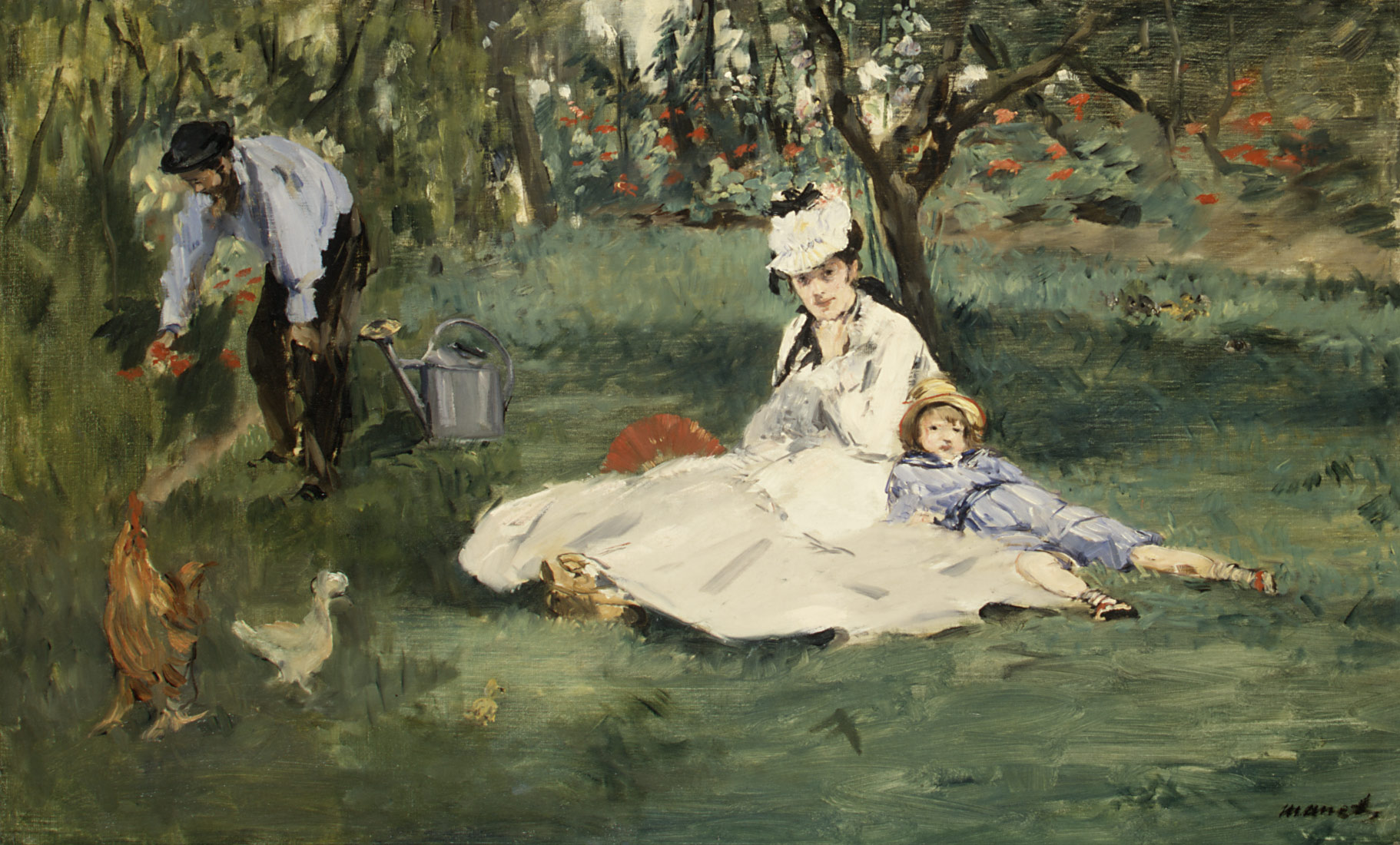 The Monet Family at their garden in Argenteuil. 1874 Edouard Manet
There is so much information on the internet about these artists but it is often very confusing and possibly unreliable. I often comes across bad copies of the masters works passed of as the real thing on Pintrest and such sites when I'm looking for images of paintings. So I much prefer to read real books about artists, it's much nicer and easier to study them that way. I have just got a pile of books out of the library about Dagas and Cezanne which I am looking forward to reading through.
When I am not painting or drawing or thinking or reading about painting and drawing I am spending a lot of time with Jenny, my piano. I am currently enjoying learning Chopin's Nocturne 2. Maybe I'll be able to play it as well as this someday:
At the end of this month I am going to the South Island! Somewhere I've wanted to go for a long time. I'm going to join a couple of friends picking apples near Nelson for a month and then go traveling around and see a bit of my country. Of course while I'm down there I'll do the best I can to get to lots of huts to draw them for my project.
The Art of a Hut
.
I'm really looking forwards to spending a couple of months down there picking apples which means earning money--a novelty for me! And then traveling around with my friends in a bright blue ford falcon '70. Lots of fun, my sketchbook will be ever at my side and when I come back I'll share them with you. So you won't hear much from me here in the months of April and May but I'm not going away just yet and I plan to do a fair bit of blogging this month.